2022 Church Camp is July 17-22.
Perhaps you were born for such a time as this (Esther 4:14)
Camp Registration & Check-In:
All campers must visit the Check-In Station upon arrival to camp
Camp Registration and check-in BEGINS at 3pm on Sunday, July 17, 2022
No EARLY Registrations or camper drop-offs!!!
The doors to check-in will not open until 2:45 pm. Please do not show up before then.
Have your printed registration form and a check for any remaining balances with you at check-in if you have not pre-registered. 
Any person(s) arriving at camp prior to official registration time will be personally liable for any accidents, damages, or injuries. Early arrivals make it impossible for the camp director to have a pre-camp inspection of the facilities. No early registration or camper drop-off will be accepted before 3:00 pm.
Please note: Early registration will be done

online only

.  The only paper registration form we will accept is at late registration on July 17.
Please note: credit card payments are not available at check-in. Checks, Cash, or Money Order only please.
Camper Pick-Up:
Camp ends on Friday, July 22nd at 12:00 p.m. without lunch.
Please pick up your camper(s) no later than 12:30 pm on July 22, 2022.
Regarding COVID-19
At this time, in accordance with Ceta Canyon policy, campers will not be required to social distance or wear masks. Please note that if a camper is sick at the time of check-in, we ask that he/she does not attend camp
Things to Pack:
*PARENTS: Please label all campers' articles and clothing!! Camp/Camp Staff will not be responsible for items left behind. Below are other suggested items to pack:
Bible
pencil & notepad
swimsuit & towel
pillow
towels/washcloths
bed sheets
blanket or sleeping bag
toiletries
jacket/sweater
1 set of dress clothes
snack money
snacks (optional)
camera (optional)
sport clothes/tennis shoes
flashlight
sunscreen
bug spray
jeans/sweat pants (for hiking)
alarm clock if needed.
*If you choose not to submit your cell phone to camp staff for holding, it can be confiscated by any camp staff at any time if they feel you are abusing the privilege of a cell phone or are a distraction to others.
Directions to Camp:
Take I-27 North to Amarillo or South from Amarillo.
Take the Wayside exit which is HWY 285 from I-27.
You will go EAST on HWY 285 approx. 8 miles, you will see signs that say church camps.
You will turn NORTH (left) and go about 2 miles.
At the bottom of the canyon, turn LEFT at the Christian Camp Sign.
Please drive in slowly for other campers may be unloading.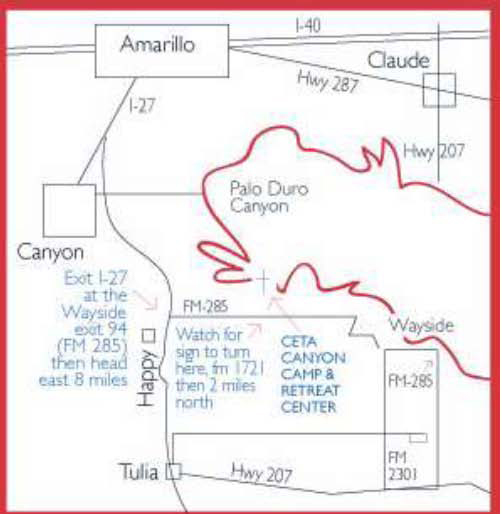 Contacting Campers or Staff:
If you need to contact the camp during the week you may call Ceta Glen (Canyon) at
(806) 488-2268 (and ask for Eric Hiner our Director)
Cell Phone Policy:
Each camper has the option to let the PSPLCA camp staff safely hold their cell phone in a locked area from Sunday, July 17, through Friday, July 22, 2022. The cell phone will be returned to the camper at camp during designated times set by camp director, no later than July 22, 2022.
PSPLCA will not be held liable for any lost, damaged or stolen cell phones or other electronic communication devices that are not officially registered and placed in a locked area from July 17-22, 2022. Cell phones that are found unregistered by camp staff during the week of camp can be confiscated and placed in a locked area. If for any reason the camper needs to use a cell phone during the week of camp, he/she can request the assistance of a camp counselor or director.
Extra T-Shirts and Banquet Tickets:
If you would like an extra t-shirt, please order it at registration. The fee for an extra shirt is $20.
Ceta Glen Camp Banquet and Awards will be Thursday, July 21, 2022 5:00 – 9:00 pm
If you would like to be a guest at the awards ceremony and banquet, please sign up at registration.
The fee for each guest will be $10.
NO GUEST OVERNIGHT STAY PERMITTED. Beds are for registered campers ONLY.